ROTARY CLUB OF BUDERIM
We are now well into the Rotary year with the new Executive Committee Members embracing their portfolios and coming up with some great ideas. There is a sense of vibrancy in the Club resulting from new ideas, new members, and visitors to our meetings.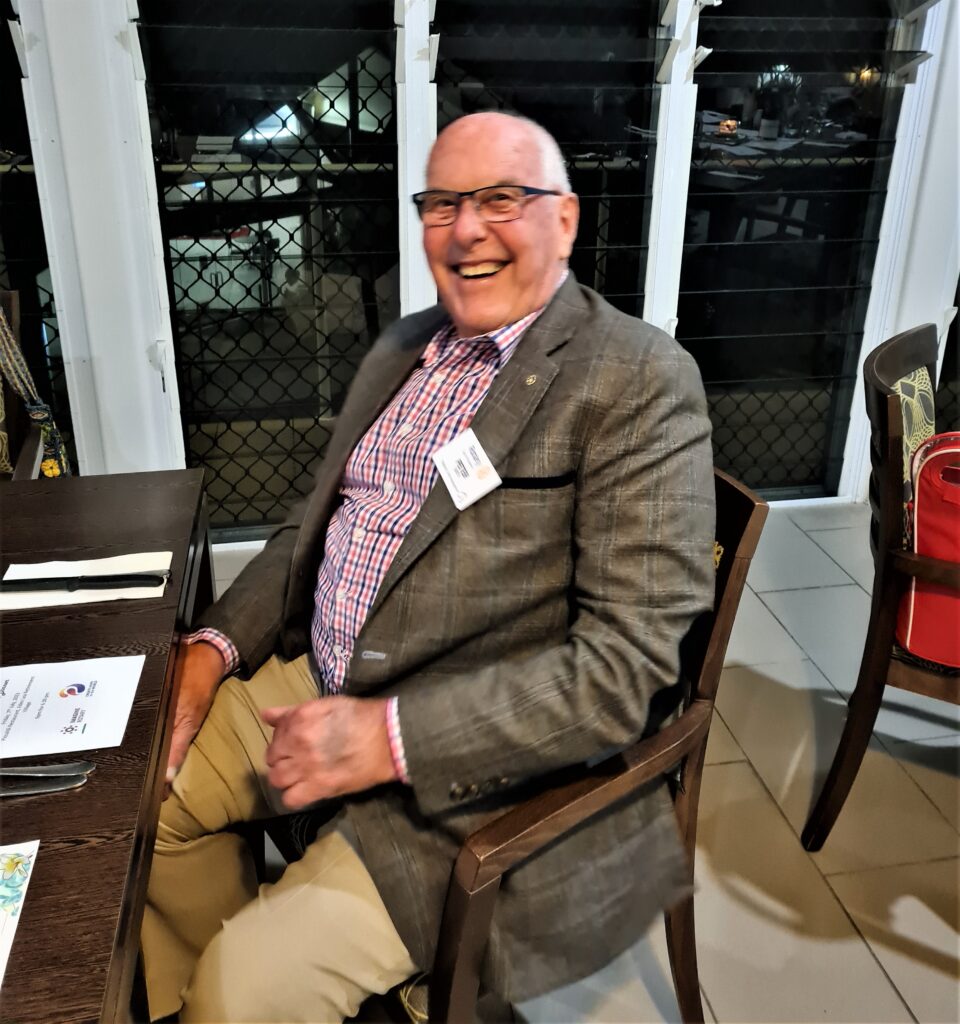 July and August saw us inducting two new members: Peter, who hails from Ballarat and brings with him a wealth of Rotary experience and a lovely wife, Lorraine, who has made a welcome addition to our social events; and Malcolm, a new Rotarian who, along with his wife Sarah, has been the stalwart of our Maroochy Neighbourhood Breakfasts for those living tough on The Coast. Sarah is a regular at our meetings and fully involved with the club. Both couples are new to The Coast and found Buderim Rotary a great way to develop friendships and become involved in the local community. We value new members highly as each one adds a new dimension to the club, bringing new ideas and perspectives.
Members attended the Breakfast for Chappy Alexia, a fundraising event to help support the very important chaplaincy program at Buderim Mountain State School. In these challenging economic times, there is an increasing number of students, and their families, utilizing the support that Alexia provides. We are looking forward to Alexia coming to our meeting on the 8th September as our Guest Speaker.
Our Guest Speaker line-up for the coming weeks is impressive, with Stuart Aird telling us about 'Walking Across Nepal', and Cath Manuel speaking on 'Therapeutic Horticulture', and as mentioned, Chappy Alexia. Guests are always welcome to come along to hear any of our Guest Speakers, and just need to contact us so we can organize their lunch.
We continue to 'fire up the barbie' at Maroochy Neighbourhood Centre to help provide a hot, nourishing breakfast to those on the Coast living tough. It is sad to see the number of homeless in the area increasing. The food for MNC is supplied largely by OzHarvest and we were lucky to have Michele Lipner, the coordinator of this food rescue program here on The Coast, as our Guest Speaker at last Friday's meeting.
Planning for the Australia '24 Day Picnic in The Park is well under way with some fantastic entertainment, food stalls and community displays locked in. We are fortunate to have the invaluable input of John Murdoch (M7) and Neil Lancaster (104.9fm) helping to organize the great line-up of very professional acts. Based on feedback from this year's event we will again have the fantastic fireworks, and M7 have agreed to play a longer set (popular demand). The day will kick off a bit later to take full advantage of the cooler afternoon/ evening.
We are fielding a number of enquiries from people new to The Coast wanting to meet people and participate in activities which provide a sense of purpose and are also fun. Our new President, Clive, is eager to establish regular social outings for the entire Club: in September the Club with attend the Unveiling of a plaque at Buderim Hall for Cpl. Daniel Keighran VC, followed by lunch; in October we will visit the Majestic Theatre at Pomona for a silent movie viewing and lunch.
The Ladies Luncheon's are growing. Starting off with 3-4 , at our last lunch on The Esplanade Mooloolaba we had nine. We all agreed that it's not that we don't want 'the blokes' there, we just feel that they would find the decibels challenging! Some of us car-pooled to see Moulin Rouge at QPAC and agreed that it was a brilliant show. We enjoyed the outing so much that we have booked for nine of us to see Chicago in January, also at QPAC.
We are looking forward to BWMCA's Jazz in The Park next month where we will be serving up some delicious hamburgers. Last year's event was fantastic, so come along and hear some wonderful musicians and don't forget to pop over to our marquee and grab a burger, knowing that all money raised helps us to continue the work we do to help those in need.