ROTARY CLUB OF BUDERIM JAN/FEB HAPPENINGS
The post-Australia Day respite didn't last long enough to allow us to get bored, with us assisting the Buderim Mountain SS with their weekly breakfasts for the students, some wonderful weekly guest speakers at our meetings, some fun social events, and planning for our upcoming 29th birthday.
Over the past four weeks we have had meeting presentations about dolphin communication, the ongoing violence committed against PNG women, corporate governance and strategic planning, and a report from our returning National Youth Science Forum participant. Couldn't wish for more variety!
Dr Alexis Levingood from USC has been studying the socialization and communication of dolphins, and how that can be applied to how humans interact. A very interesting, and at times humorous, presentation. We are very lucky to have access to some fascinating research being done locally at USC, and appreciative of the fact that the Lecturers and PhD students are supportive of us.
Maggie Hunter from The Tribal Foundation is working hard to raise awareness of the plight of women in PNG who are sometimes subject to horrific violence, often as a result of cultural ignorance, such as being deemed 'witches' and subsequently burnt as punishment. The Tribal Foundation believes strongly that education is the answer and are therefore on a mission to enlighten PNG men and boys, often in the remotest parts of the country.
Chris Scott has been involved with corporate governance and strategic planning for many years as CEO of large organizations. He is currently at the helm of Volunteering Qld. Much of his expertise is relevant to us as a volunteer organization, and the fact that he is a past Rotarian, we found his presentation provided much 'food for thought.'
Each year we sponsor one or more local students, who are pursuing a path in STEM subjects, to attend the National Youth Science Forum, a week-long forum which enables them to experience cutting-edge science, visit our top science-based facilities, and hear from some of the country's predominant scientists and medical professionals. Their return visit to our meeting to share their experience with us is such a highlight. Invariably they consider the experience 'life-changing', and this year's recipient of our sponsorship was thrilled with the experience describing it as "..the best experience of my life." Rotary has many other Youth projects available which we will be pursuing later in the year.
Socially we had a great 'Adventure Car Rally' combined with Probus members, organized by Keith Solomon. Apart from enjoying the drive through beautiful countryside, we sharpened our wits with the challenging general knowledge questions, and enjoyed morning and afternoon tea, as well as lunch, at different venues. Perfectly planned and a fun day for all. Thanks Keith & Lynn.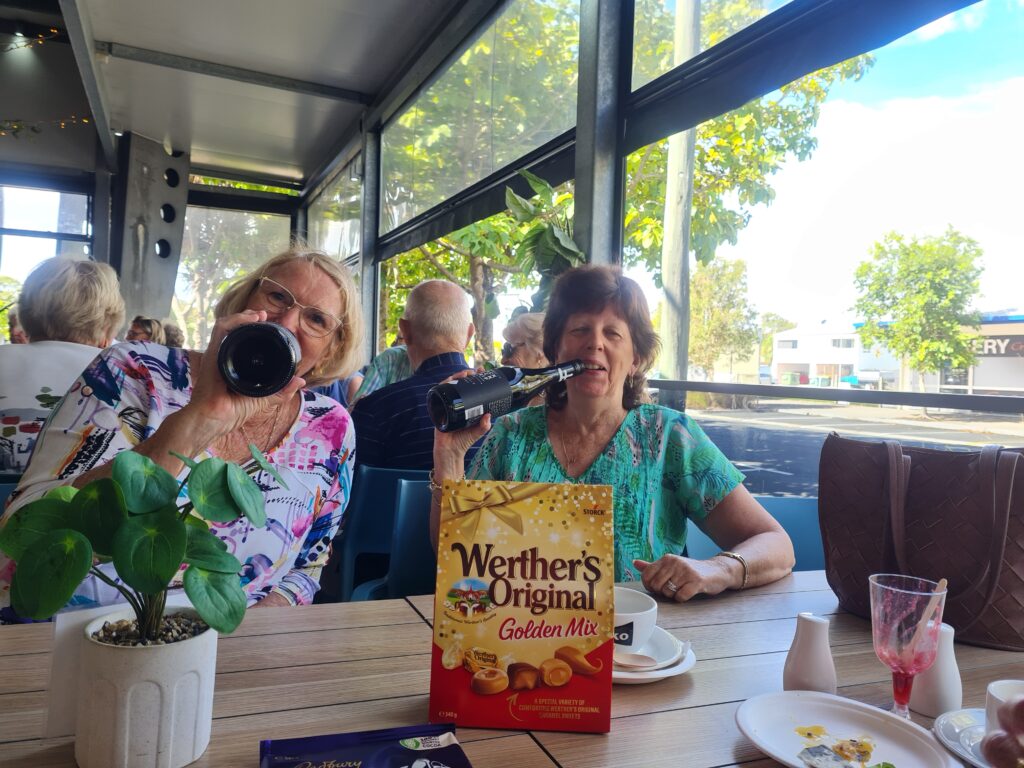 The ladies in the club have once again enjoyed their monthly outing, this time to savor the culinary delights at Bocca Italian Restaurant, including the rather spectacular garlic bread. Next month's venue yet to be decided…
As we are about to turn 29, we reflect on 29 years of contributing to our local Buderim community in so many ways, and look forward to continuing that support. Like most local, NFP, volunteer organizations we continually face the challenges of growing the membership, as having a substantial, vibrant, enthusiastic membership will enable us to continue to work for the benefit of our community.
If you are interested in finding out more about our club, you are most welcome to come along to one of our Friday lunchtime meetings in the function room at The Buderim Tavern at 12.15. Meet the members, listen to an interesting speaker, have a meal (on us), join us for coffee after the meeting, and decide whether you'd enjoy being a part of our very friendly group.