ROTARY CLUB OF BUDERIM
In the Rotary calendar the month of July is a 'transitioning' month: a change of President and Committee Members brings fresh ideas and renewed enthusiasm for the year ahead. Like many transitions in life, it is worthy of celebration.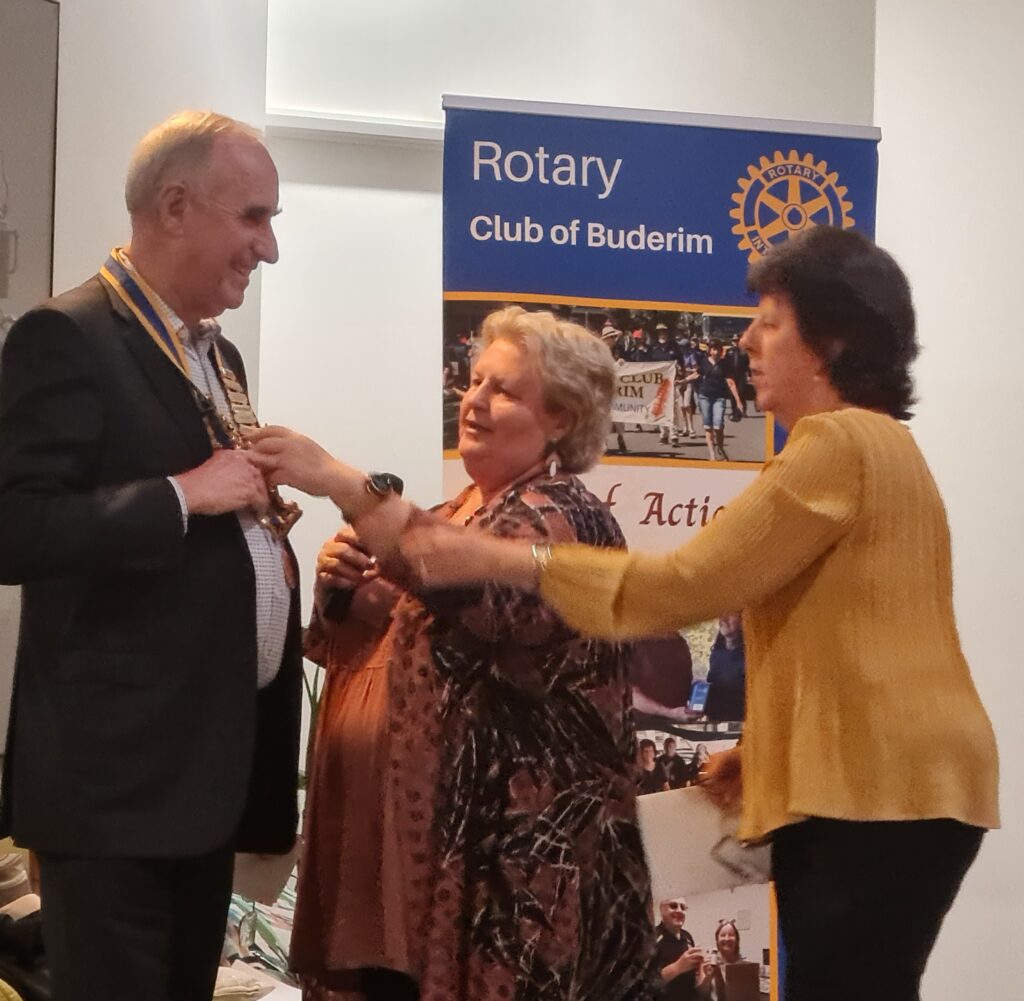 The Club headed to Piccalilli's at Eden Lea to indulge once again in a fabulous repast produced by Chef Anthony and his wife, Fiona. This is our third time dining at this establishment, and we never cease to be amazed at how flawlessly this husband-and-wife team can plate up such a delicious spread with perfect timing. Not only is the location convenient, but having the venue to ourselves is also a big bonus.
Past President, Lynne Phillips, reflected on a successful year in which our club made a tangible difference in our local community, as well as providing aid internationally. It is doubtful that there would be a member present who didn't feel a sense of pride in how we have made a positive difference in many lives throughout the year. We know the club is in good hands as Incoming President, Clive Shepherd, outlined his vision for the coming year.
With a shuffling of the Executive Committee, and new members, changes are already in the wind, however, the fundamentals of good, fun meetings, interesting Guest Speakers, community involvement, supporting our local youth, and regular social outings remains strong. With the Rotary philosophy of selfless service as our foundation, we will continue to support those in our community in need, support Rotary in its humanitarian work both nationally and internationally and support our local community events. Plans are also afoot for expanding our support for our local students to develop their career aspirations and leadership potential via various wonderful Rotary Youth programs.
On the social side, our monthly 'Ladies Lunch' has already kicked off the new Rotary year with eight of us enjoying a delightful lunch at Mooloolaba savouring good food, good company, and an amazing view. We're looking forward to heading off up to the Hinterland for our next luncheon!
The Buderim Rotary website banner states "Making a Difference in Our Community & The World", an ethos to which we proudly adhere. The new Rotary year is a great time for anyone with a desire to become more involved in our community, and 'Make a Difference', to come along to one of our meetings and see if Rotary membership could provide that same sense of purpose we cherish.