ROTARY CLUB OF BUDERIM
As we draw towards the end of the Rotary year, it's always good to reflect on how the club has fared over the past twelve months. I'm proud to say that the Rotary ethos of 'Service Above Self' has been at the forefront of our activities this year, with a decent splash of socializing added to the mix.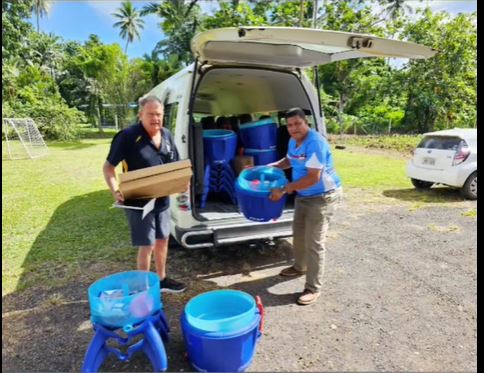 Our International Director, Paul, packed his bags and headed off to Fiji to represent our club in the installation of the Lifestraws water filtration systems we donated to various remote parts of the island. Paul returned as one very proud Rotarian after witnessing the difference these systems made in the more remote communities where water-born disease is problematic. Paul was quite humbled by the gratitude shown by the locals for the Club's generosity.
Director of Youth Services, David, has been flat out spreading the word among our local schools about the various Rotary programs available to their students, and how our club is willing to support students keen to participate. We sponsored one very eager young lady to participate in the National Youth Science Forum, which she found to be a "life-changing" experience. The club has agreed to sponsor ten local students to attend a new Rotary Youth Program called the Science Experience. And, as we do every year, we participated in the Driver Awareness training day for local senior students. Our club has a proud history of supporting our local youth and will continue to do so towards the end of this year with the Rotary Youth Leadership camps.
The role of Director of Community Service is always a demanding one, however Director Ken rose to the occasion. The year saw us assist with the Buderim Christmas Carols, and then hot on the heels of that, organize a sensational Australia Day celebration which attracted thousands of locals. A few sausages were sizzled for the Jazz in The Park event, the Mooloolaba Boardwalk opening and the Buderim Gardens open day. On a fortnightly basis we're assisting Buderim Mountain SS with their students' breakfasts and cooking up a hot breaky once a fortnight for the Maroochy Neighbourhood Centre as they help those in our community sleeping rough. Not one to rest on his laurels, Ken has already started cracking the whip in preparation for Australia Day '24 – and what a wonderful event it is going to be.
Vocational Service Director, Keith, organized a great Adventure Car Rally earlier in the year which was thoroughly enjoyable. His organization of our yearly Vocational Service Awards allowed us to recognize those service providers in our local Buderim community who show dedication to their vocation and exemplary customer service.
We can certainly look back on the past year with President Lynne at the helm, proudly knowing that the club has served our community well, contributed to the work of Rotary internationally, and stand in good stead to move forward with Incoming President Clive taking over the reins.