The Rotary Club of Buderim
On 7th March, 1994 Rotary International chartered The Rotary Club of Buderim on The Sunshine Coast with 27 members under the sponsorship of The Rotary Club of Mooloolaba. The Charter was presented to the Club's Charter President, Patrick White, at a dinner at the Big Pineapple on 23rd April, 1994 by the then District Governor, Doug Biggs.
Since that time The Rotary Club of Buderim members have channeled their commitment to service above themselves through five avenues of service: community service, youth service, club service, vocational service and international service.
Community Service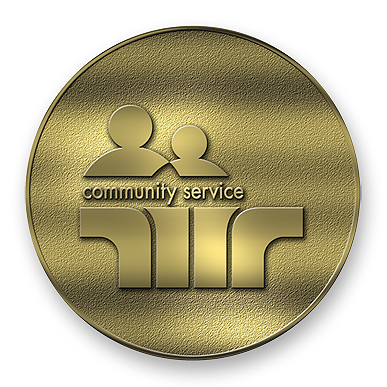 Community Service focuses on change starting with our local community. Activities that our club undertakes to improve life in our local community include The Buderim Australia Day celebrations, The Buderim Street Party, Carols by Candlelight & the Rotary Club of Buderim Book & Puzzle Fair.
Youth Service
Youth Service recognizes the positive change implemented by youth and young adults involved in leadership development activities, community & international service projects, and exchange programs that enrich and foster world peace and cultural understanding. Programs in which Buderim Rotary Club are involved by way of sponsorship or providing manpower, include National Youth Science Forum, and RYDA youth driver awareness.
Club Service
Club Service focuses on strengthening fellowship and effective functioning of the Club – a role which requires organizational skills & innovative thinking. The Director of Club Service liaises with our venue, books our guest speakers, ensures our meeting room is set up, and maintains the club's stores. They are responsible for the general health and vitality of the club as a whole.
Vocational Service
Vocational Service encourages Rotarians to serve others through their vocations and to practice high ethical standards. Visiting local businesses to learn about industry in our community increases our knowledge and helps to build networks. Projects around learning a trade and awards for pride in workmanship are just some of the programs in which Rotarians promote high ethical conduct in business and professions.
International Service
International Service expands Rotary's reach around the globe and promotes world understanding and peace. Rotary clubs can sponsor other projects in another country, seek international partners to support projects in their own communities, or Rotarians can personally volunteer at an international project site. Projects include polio eradication, water and sanitation programs, reconstructive surgery programs (Interplast & ROMAC), friendship exchanges and disaster relief.
Conclusion
Since its charter, in addition to "hands on" projects, The Rotary Club of Buderim has contributed substantially to our community. Club members are proud to know that they 'make a difference' in our local community of Buderim, in Australia and across the globe.
Apart from the warm glow of satisfaction gained from 'service above self', club members thrive on friendships formed & enjoyable social activities. Whether its the laughter & friendly banter over coffee after each meeting, the ladies getting together for their monthly dinner out, or the club organized special social events, the camaraderie is a valued part of our membership. Even when we're working hard on our community events, we're generally having fun!
If you would like to become a member of this very worthwhile organization, and know that you are making a positive difference, contact us today.